A recent report via the ABI (5th June 2018) stated that during the first quarter of 2018, insurance claims were up by 290% as insurers helped customers hit by The Beast from East and Storm Emma.  We look at how the insurance industry could be saving millions of pounds ever year by altering its approach to managing claims.
See our restoration vs replacement infographic
Impact of weather events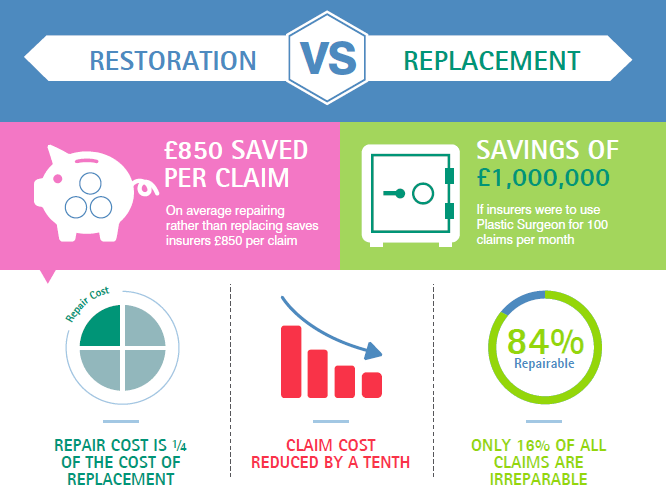 The insurance industry has faced a challenging start to the year. A total of £1.25 billion was paid by insurers under domestic and commercial property insurance policies – the highest quarterly figure for two years, and some 86,000 claims were handled, compared to 29,000 in the previous quarter (ABI)
However, what is interesting to note is that at this unprecedented busy time for the insurance industry, our claim numbers at Plastic Surgeon did not follow the trend we would have expected.
"Insurers are still adopting old-fashioned, expensive and somewhat unreliable processes when it comes to their approach to handling claims, particularly during large scale weather events." Chris Edwards head of insurance at Plastic Surgeon explains.
"Clauses within policy documents state that insurers have the option to repair, replace, or cash settle.  Many insurers do not understand just how many items are completely repairable, and during incredibly busy times they revert straight to a replacement approach".
In a recent report carried out for a leading insurer Plastic Surgeon reported that in all of the cases that were presented to them only 16% of the items were unrepairable.
Huge reductions achieved by adopting a restoration approach to claims
Consumer Intelligence also recently reported that, due to the impact of these weather events, the average home insurance premium has increased by three times the rate of inflation at 7.6%.
Chris continues: "The way customers buy insurance has completely changed over the last decade due to the launch of comparison sites such as Compare the market etc.  To remain competitive, insurers have to keep their claim costs low.
"We believe that the simplest way to do this – which has other benefits including reducing environmental impact, driving down the claim lifecycle and in turn increasing customer satisfaction – is to adopt a repair-first approach to insurance claims."
In a recent report for a top 10 UK insurer, Plastic Surgeon estimated that they had saved them an average per claim of £850.  If insurers were to use Plastic Surgeon for 100 claims per month, they would enable a saving of £1,000,000 per year.
Customer perception
Customer perception can be a barrier, many believe that new for old clauses in their insurance documentation entitles them to a brand-new item.
Chris adds: "Loss adjusters will always take into consideration the age of the item and its wear and tear which means that customers will not necessarily be entitled to a completely new item and may have to fund the additional cost themselves.
"A restoration approach, enables policy holders to return to pre-loss condition far sooner than if they were to be offered with a replacement.
Plastic Surgeon estimates that a restoration approach, reduces the claim lifecycle by a fifth.
The impact of replacement on the environment has to be a huge consideration for both insurers and customers – in 2017 Plastic Surgeon enabled 3,474 tonnes of landfill to be saved.
"Customers can still be dubious; however, we are confident that once our finishers have arrived on site, and they see what we can achieve with our restoration techniques their opinion is completely changed.
"Through brand development, the use of a customer friendly website and Feefo reviews –  we continue to educate customers on the restoration process and the value it brings."
Plastic Surgeons' finishers also work extended hours to fit into the changing lifestyle of policy holders, this includes two-hour time slots, evening and weekend and even overnight work to suit the customer.
Conclusion
"As we gear up for another storm season at the end of summer, insurers must start looking at alternative ways to manage claims, a restoration approach has to form part of their strategy",  Chris explains.
"It may seem daunting how the process is managed particularly in very damaged homes, establishing what is repairable and what needs to be replaced, but we can overcome this by working with loss adjusters providing a triage approach to the process.
"We would like to think that many are certainly seeing the value, just this year, we have begun contracts with three of the top 10 UK insurers, hopefully a demonstration that insurers are realising the benefits and cost savings that can be achieved".