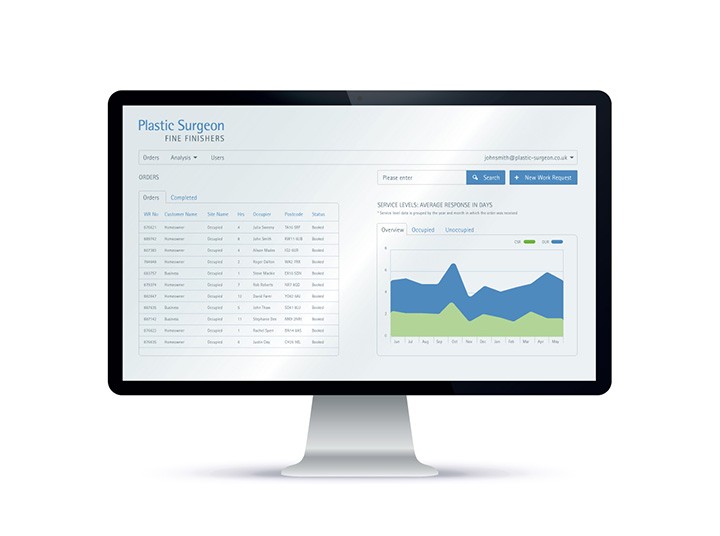 It's vital we give our clients complete transparency and control over our specialist repair service.
As such we've created, Visibility, our completely bespoke order tracking and management reporting system.
Visibility allows you to report on individual orders, plots and sites, as well as across regional and national projects.
Visibility makes it easy to get your repairs organised and keeps you informed when you need it most.
What are the features?
Simply log in to see full details of all your repair work, updated in real-time including:
Full details of every order
Site and customer names / addresses for every order
Status of every order
Damage types and materials
Number of items repaired
Location of repairs
Photo gallery of all repairs
In addition, you can view and report on:
Average cost per repair
Regional spend
Landfill savings by site, project, item or project manager
All orders and invoices associated with every job
Repair costs and savings for past and current projects
Reduce costs
Reduce costs by identifying commonly damaged items and sites where damage occurs.
Identifying if a site is overspending is easy; looking at the site level repair statistics for the site in question provides a clear picture of what's going wrong and makes corrective actions straight forward. You can plan and budget for repair and finishing requirements on future projects, based on past experience.
In addition to full statistical reporting of works the online portal also captures every order and any supporting paperwork along with every invoice, work completion record and statement, saving countless hours of paper chasing.
With building materials, sub-contractors and construction skills in short supply, it is more important than ever to limit damage and conserve resources.
Want to take a look?
If you don't currently have access to Visibility, get in touch with our customer service team for login details and a demo of the service.
Alternatively, if you already have access to Visibility, login here.